20. 09. 21

Khaseem Warren

1min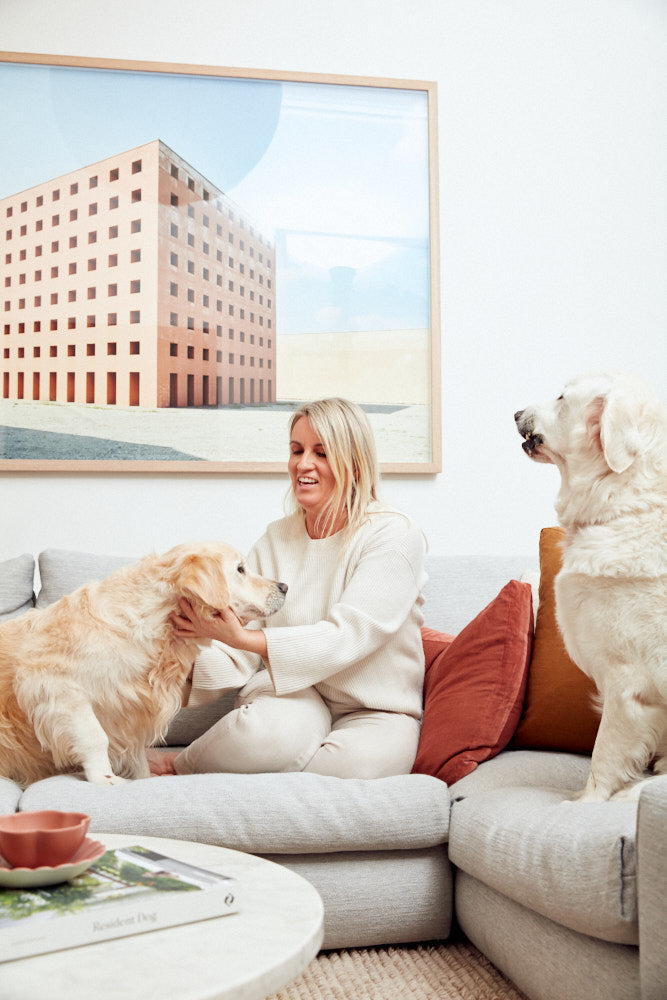 After close to 20 years of styling and designing interiors in Melbourne's leafiest inner suburbs, Cooper Robinson's founder and style director, Megan Robinson, thought it was time to take her relaxed luxury aesthetic to another level. Cachet by Cooper Robinson was born.

Step into Megan's home, and you'll be enthusiastically greeted, firstly by her two boisterous Golden Retrievers and secondly by a sense of warm, relaxed sophistication both from Megan and her beautiful home. Striking artwork adorns the walls of the Victorian terrace in Melbourne's Carlton North. Some picked up from local galleries and others- creations by her artistic clan, "Two of our daughters attended VCA so, we've had a few interesting pieces around over the years," she laughs. Currently, though, works by painter Clare Brodie and photographer Derek Swalwell take pride of place. "Artwork was such a key element in how I approached styling this interior, as was a sense of timelessness". A point punctuated by Noah's blonde tail thumping loudly on a classic, "Love Seat" by Ercol.

"I'd describe my home as pared back with not too many adornments. I'm interested in key pieces, a curated, arty vibe. I want to come home to a calm environment with pieces I genuinely *love*. Working as a stylist, it's so hard not getting wrapped up in every trend that comes along! It's one of the reasons I wanted to start Cachet. To create furniture and homewares that were unique but accessible, like a custom made piece, but you can have it straight away."
Megan, Founder with Stylist Steph.

She shows me the images for the Cachet launch, furniture, rugs and accessories, all in a luxe palette of neutrals and rich accents. I want everything. "This Sunday armchair is one of my favourites!" She circles a sweet, white chocolate button of an armchair in a creamy bouclé. "Bouclé is definitely having a moment, but it's a classic, like a tweed or velvet." Fashion houses the likes of Chanel, Burberry, and Gucci come to mind. "Yes, totally; Cachet will be releasing collections like a fashion label, small collections a few times a year."

We take a seat in the kitchen, at the island bench; a large James Lemon ceramic bowl sits beside us, laden with his namesake. "What I want most from this new venture is for people to experience the *joy* of living in a fully realised, styled space. After we've styled a home, the most common reaction is, "Omg! This looks amazing! We should have done this years ago!!". For someone who is design-centric, styling your home over time- allowing it to evolve- is something you'll naturally do because you have the passion and confidence to do it. Cachet is here for those people with gorgeous signature pieces that you'll fall in love with even *more* over time! But we're also here for the person who wants a complete transformation. You'll be able to access everything straightaway, with support similar to what we provide for our design clients; swatches, samples and advice from real stylists."
Left Sunday Armchair, Cream Boucle Right Megan, Founder

So what does the Cachet "Shopping Basket" look like? "Oh God, we've got EVERYTHING you could wish for! I'm so excited! Living room pieces, from sofas to side tables. An amazing collection of armchairs, they are the easiest way to add character to a room. Stunning rugs in the perfect shades and textures. Incredible ceramics designed and made in Melbourne. Beautiful lighting options, cushions, accessories, and the most phenomenal New Zealand wool throws. Everything has been designed to work together and adapt to a multitude of environments. It was also crucial to me that everything will stand the test of time, in terms of quality, style and design."


Megan smiles, "After 20 years of styling and consulting (on) literally thousands of houses; we know how people want to live."