GET HAPPY by creating a well-home
10. 03. 22

Khaseem Warren

1min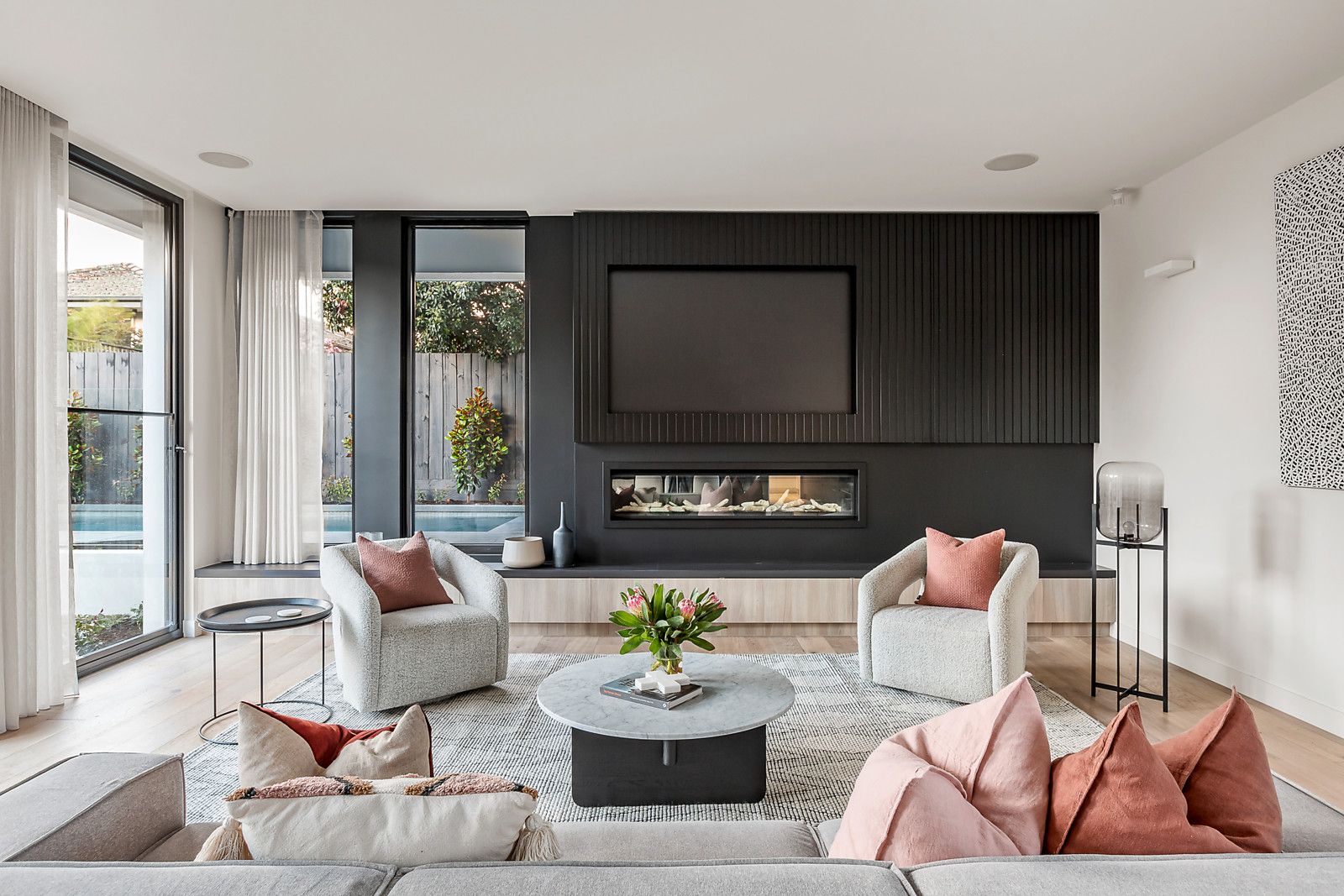 It's an interior design experience we've all had, walking into an incredible space that immediately lifts our mood. Perhaps it was a private home, but more often than not, our first encounter with great design was a commercial space. Whether it was a beautiful hotel lobby, restaurant or boutique, these experiences stick with us. They make us want to dress up, bring our friends and spend our money and precious time in these places.
Exceptional commercial spaces are designed by professionals, experts in their fields that consider all the elements a room needs and applies vital design principles to get the best outcome for their clients and, in turn, their clients, i.e. you. The same foundations apply in a well-home. Just like a perfectly realised commercial space, a well-home is balanced and elevated in every detail; fabric, materials, design, artwork, lighting and colours are the essential building blocks.
Home is a place you should feel both inspired and at peace, an environment that supports our quest for harmony, not hinder it. A balanced home aids a balanced mind. Cachet was created as a way to awaken the designer within, to share, simplify and uncover those often shrouded design principles and show you how to create a well-home.
As humans we need reminding to disengage from negative thought patterns. This is why activities specifically created to enhance our feelings of wellbeing are best practised daily; think meditation, yoga, journaling, or simply taking a walk. The places we choose to carry out these daily practices are part of the experience. Yoga studios are places of calm minimalism, gentle, ambient music and soft lighting. We know a restorative walk is best taken in nature, not a noisy street. Imagine yourself hurrying home after work, traffic, crowded station, harsh weather. Now, open your front door. Does your home greet you? Is it a sanctuary?
Our home environment plays an enormous role in our experience of happiness and wellness, because...this is where you'll find us each and every day.
In times before mass-literacy and news services, European architects used design cues like heroes-on-horseback, Latin slogans of higher thought, biblical motifs and royal crests to remind the "People" of the why and the how of day-to-day life. Today, the messages embedded in design are slightly different. Luckily for us, fewer stonemasons are required to get the warm-fuzzies across; you won't need Roman columns in your foyer to impress friends. Instead, hanging that piece of art, you found in a curious little shop on your travels, over a marble console laden with fresh blooms should do the trick. Creating and living in a well-home is a shortcut to wellness.
Creating a balanced home filled with natural light and objects of beauty and meaning is where a well-home starts. Each item you place in your house and how you place it should contribute positively, elevating how you live. Does it function well? Is it beautiful to me? Does it enhance the experience of living? Do I love it? When we consider these questions, we are quite literally creating a considered environment.
In this Journal, we will dive into what it is to create a well-home.
FIVE ESSENTIALS of a well-home.
SCALE is everything.
How furniture proportions relate to the space and each other is incredibly important. Oversized furniture can make a room feel cramped and 'blocked.' Pieces that are too small will reinforce a cavernous effect, a feeling of lack or depletion like you haven't quite finished moving in. When a designer says a room feels resolved, it feels finished, and the puzzle has been completed.
Sitting in an unresolved room is like living in a to-do list, creating micro-stresses you may not even realise are there until the process is finally complete and you experience the relief that washes over you. Even something as simple as a coffee table that you can't quite reach from the sofa can be frustrating but easily solved with a side table positioned correctly. We've all been there!
LIGHT up your consciousness, not just your home.
In general (media rooms aside), a home filled with sunlight is a happy home, one where you want to be.
"Decreased sunlight can cause drops in your body's production of serotonin, a brain chemical that helps to determine mood. Lack of light can also alter the brain's balance of melatonin, a chemical produced during the hours of darkness that helps to govern sleep patterns and mood." Smithsonian
Balance a dark space by increasing the natural light you experience by adding pale fabrics and bright and reflective items.
Add: Light coloured furniture and finishes, pale timbers, layered lighting, mirrors, white coloured walls and even floors.
Remove: Window coverings for maximum sunlight, dark furniture and finishes and clutter.
ESSENTIALISM is the new minimalism.
Princeton researchers published an article in the Journal of Neuroscience in 2011 that found in a cluttered visual environment, multiple objects compete for your attention, leading to poor focus. Clutter is distracting, and a person's ability to be productive suffers.
You may not be at "hoarder level 9" (yet), but most of us have cupboards, wardrobes, garages and drawers crammed with items we just don't use and often forget we even own. Across the board, decluttering is the number one recommendation made by Cooper Robinson Interiors before property styling can commence.
Minimising your possessions is the best place to start and something to revisit often. For decluttering tips- use the golden questions above for a considered space to guide you.
When you have decluttered your home, creative storage options are where to look next. Besides shelves, opt for coffee tables, consoles, buffets, side tables, and bedside tables with drawers and shelving sections. Ensure what you do keep at home has a happy home of its own.
TEXTURE takes you where you want to go.
When selecting materials, wool, cashmere, linen, cotton, silk, timber, stone, fired clay, metals, and even glass are the goals. Surround yourself with organic elements where ever possible. Not only are these finishes better for the environment they also create a sensory experience within your four walls.
For example, padding across a luxe wool carpet in your bedroom is cozy and warm. Puddling linen drapes convey generosity and abundance. A smooth stone surface is cool to touch and calming. Fresh, clean sheets after a warm bath, everyday luxury. A tile we instinctively reach to touch. We all know these sensations.
Even learning is more accessible when our senses are pleasantly stimulated, we retain more information, and our brains are more receptive.
COLOUR your world.
There have been many, many studies done on colour and its psychological effects; you've most likely heard things like yellow stimulates appetite, blue instils trust, and red is natures' warning signal.
Hence, fast food restaurants use bright marigold, emergency forces often wear navy, and a 'stop' sign is scarlet. The humble traffic light is the embodiment of this idea. It's a wordless language understood by all.
Design is where colour lives. It's virtually impossible to design a product without colour choice, and the same decisions must be made when styling our interiors.
Colour preference is a most personal one. Our over-arching advice would be to select colours that make you happy.
The secret to impactful choices lies in keeping to a few key accent colours, expressed through accessories, artwork and smaller furniture pieces, like an armchair or rug.
Neutral tones for walls, floors and significant furniture items will mean they're virtually timeless and create an atmosphere of tranquillity in your favourite spaces.
The final layers of a well-home...
A home really is where the heart is, so spotlight those moments in life that you've loved (and lived) by displaying travel finds, trinkets, family heirlooms, mementos, art and items of joy. All play their part in lifting the soul. They allow you to access happy memories easily, which is especially poignant in the last couple of years.
Our stylists use this framework to collaborate with clients helping to balance their spaces daily. Our Cachet small batch collections take much of the guess work out of creating a room you can recharge in, a spot you adore. You can pick and choose items within a collection that work together cohesively. It's that combination of these elements that make a home yours, a place for wellbeing and a place for living well. A well-home.